OLIVIER PARDINA (June 24 – July 5)
Former Artistic Director and Principal Instructor at the Nice Opera Ballet School, Pardina has lived in the United States since 1991. He taught at The HARID Conservatory for 20 years, was a principal instructor at the Miami City Ballet School Pre-Professional Division, and has taught master classes throughout the world. Pardina has been a guest teacher at American Ballet Theatre and the Youth American Grand Prix. A native of France, Pardina began his ballet training at age 10.  His training included master teachers from the Paris Opera Ballet. The Nice Opera Ballet offered the 16 year old Pardina his first professional position and promoted him to the rank of Principal Dancer by the end of his first year.
Pardina toured with Rudolph Nureyev and worked closely with him as his understudy while working for the Nancy Ballet Theatre.  He also danced and toured the world with major French ballet companies. Among his breakthrough roles, was his portrayal of Petrouchka, in Hommage a Diaghilev. He also received critical acclaim for his performances in Serge Lifar's Phedra, Moses Pendleton'sPulcinella, Birgit Cullberg's Miss Julie and Hans Van Manen's Songs Without Words,Five Tangos, and Septet Extra. His students have won major prizes at both national and international dance competitions and many are now principal dancers at some of the top ballet companies in the United States and Europe.
DENIS MALINKINE
A native Russian, Denis Malinkine graduated from the esteemed Bolshoi Ballet Academy. He soon joined the Moscow Classical Ballet in 1985 and participated in many of the Company's tours, including: the United States, the United Kingdom and Japan, among othesrs. In 1990 he joined the National Ballet of Portugal.
In 1993, Mr. Malinkine was invited by Christopher Gable to join England's Northern Ballet Theatre. As a principal he created the title role in the landmark production of Dracula by Michael Pink and Christopher Gable, and the roles of Captain Phoebus in Pink's Hunchback of Notre Dame and Albrecht in Northern Ballet Theatre's Giselle. He expanded this experience in the genre of Dance Drama in productions of Romeo & Juliet, Christmas Carol, Cinderella, Swan Lake, The Brontes and Carmen.
Mr. Malinkine has worked with Atlanta Ballet since 1999 where he created the role of Romeo in Michael Pink's Romeo & Juliet. During his career he has appeared in classical ballet performances, and in productions by George Balanchine, Kenneth MacMillan, Lila York and many others.
Mr. Malinkine has acted as guest artist and assistant to Mr. Pink in performing and remounting these works for Atlanta Ballet, Boston Ballet, Colorado Ballet, Ballet Internationale and the Norwegian National Ballet. He also assisted John McFall in his work for Peter Pan with Ballet Internationale.
Mr. Malinkine is currently Ballet Master with Milwaukee Ballet.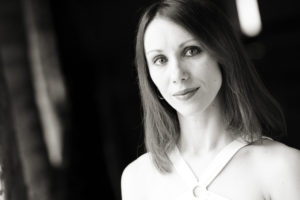 TATIANA JOURAVEL-MALINKINE
A native of Ukraine, Tatiana Jouravel-Malinkine graduated from the Kiev Ballet Academy in 1992. After working with Hartford Ballet from 1992-1994 under direction of Kirk Peterson, and Boston Ballet from 1994-2001 under the direction of Bruce Marks and Anne Marie Holmes, she worked with Milwaukee Ballet as a Leading Artist from 2003 until 2010 under direction of Michael Pink.
Jouravel-Malinkine's repertoire includes: Aurora and Lilac Fairy in The Sleeping Beauty. Marie, Sugar Plum Fairy, Dewdrop Fairy and Snow Queen in The Nutcracker. Kitri, Street Dancer and Marcedes in Don Quixote. Odette in Swan Lake. Lucy in Michael Pink's Dracula. Olga in Winter Dreams by Kenneth MacMillan. Titania in Bruce Well's Midsummer Night's Dream. A title role in Carmen. Ben Stevenson's Three Preludes and Dracula. A principal roles in Raymonda Divertisment and Kingdom of Shades from La Bayadere. Zorema in Le Corsaire. Gulnare in Bournonville's Abdallah( Tales of Arabian nights). Cinderella in Michael Pink's Cinderella. Tiger Lily in Michael Pink's Peter Pan. She has danced in Twyla Tharp's Waterbaby Bagatelles. George Balanchine's Agon, The Four Temperaments, Rubies, Serenade and Symphony in C. Paul Taylor's Company B and Lila York's Celts and Coronach. Ms. Jouravel has also danced in works by Antony Tudor, Val Caniparoli, Mark Godden, Trey McIntyre, Christopher Wheeldon, Adam Hougland, Michael Corder, Kirk Peterson and others.
Ms. Jouravel won Grand Prix Prize at the Competition of the Soviet Union Ballet Schools in Minsk, Belorussia in 1992. Ms. Jouravel also won a Silver Medal at the New York International Ballet Competition in 1996.
Ms. Jouravel has taught ballet at Boston Ballet School, Atlanta Ballet School, Georgia Dance of Academy, Chautauqua Regional Youth Ballet (NY), Oak Creek Ballet (IL), and Milwaukee Ballet School.  Ms. Jouravel is a Certified Pilates Instructor and is currently on faculty at Milwaukee Ballet.